About the Tallman Hotel
Recent Testimonials
"Thank you very much for the best hotel experience we've ever enjoyed! I'm a recently retired timeshare sales manager for Westin and other great companies with VIP privileges and your property is the first I wanted to just hang out on property!"
~ M & S, Lahaina, Hi.
"Our discovery of your hotel, restaurant/saloon, and gardens came after a long road trip up the coastline to the northernmost tip of Washington. We were exhausted when we arrived for our stay at the Tallman, and somewhat worse for the wear, after two truly painful overnight lodging experiences elsewhere. The beautiful natural atmosphere, the delicious dining experiences, and the graciousness of your staff renewed us, and left us with a treasured memory of our trip West."
~ J.A, Gainesville, FL

For further reviews, check our pages on TRIPADVISOR and YELP.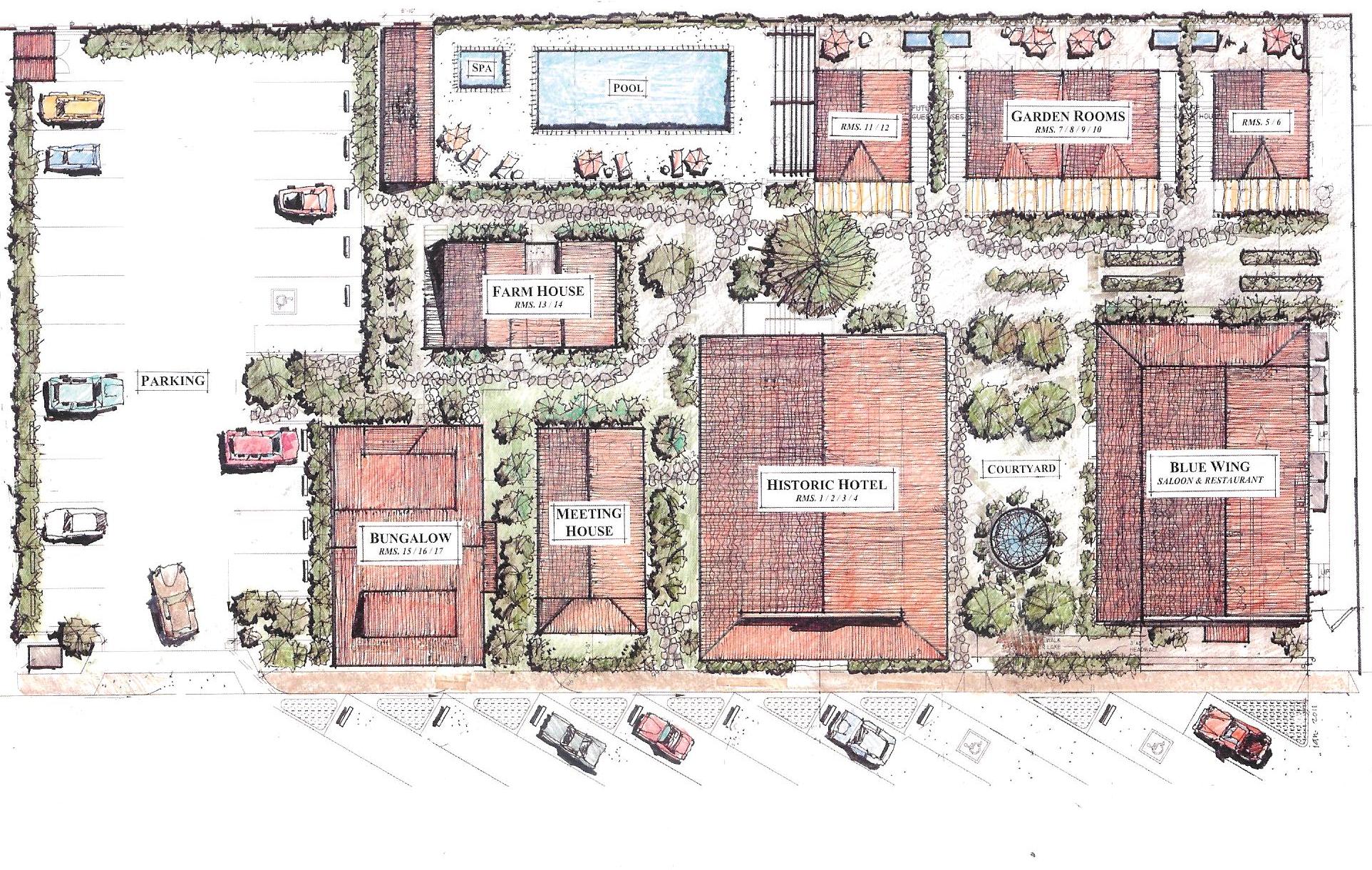 The central feature of the 17-room Tallman Hotel complex consists of the main historic hotel, originally constructed in 1896 and fully restored and reopened in 2006. Downstairs is the parlor and reception area along with a beautifully decorated dining room. Upstairs are four guest rooms in the Historic Hotel featuring fully restored period bathroom fixtures and private verandas.
Facing a shady garden is the Blue Wing Saloon Restaurant (open 7 days a week) and a complex of eight Garden Rooms, all with verandas facing the garden. The four lower Garden rooms each feature a private back deck with outdoor shower and a teak Japanese "Ofuro" soaking tub.
Next to the Garden rooms is a sparkling and relaxing pool and spa. Pool is seasonally heated.
The complex also features the Bungalow unit consisting of three spacious suites and the Farmhouse building with an ADA accessible suite topped by a unique single garret room with private balcony.
Next to the hotel dining room is the detached, fully-equipped Riffe's Meeting House that can easily accommodate meetings of up to 40 people.
Breakfast
A delicious complimentary continental breakfast is served in the Historic Hotel's Dining Room. Since people are always asking about our delicious fresh-baked scones, here is the recipe if you'd like to try it out at home:
TALLMAN HOTEL BREAKFAST SCONES
Ingredients:
¾ cups all-purpose flour
½ cup sugar
2 tablespoons baking powder
2 teaspoons salt
1-2 cups of chopped dried or fresh fruit and/or nuts
2 ½ cups heavy cream
1 teaspoon vanilla
1 egg
Splash of milk
Preparation:
Preheat oven to 350°. Blend together first five ingredients. Add vanilla to heavy cream; add cream mixture to dry ingredients. Use hands to get everything fully blended and gather into a ball.
Place dough ball on lightly floured counter or cutting board and knead dough 2-3 times. Re-shape dough into a ball about 10" diameter and 1/4" thick, depending on preference. Cut into 10-12 wedges and place on baking sheet covered with parchment paper.
Beat egg with milk and brush mixture lightly over the top of the scones. Sprinkle some raw sugar over the tops, if desired. Bake scones for 15-20 minutes until golden brown. Cool slightly before removing from pan.
Memento of Your Visit
We've put together a beautifully illustrated 64 page hard-back "mini- coffee table book" about the hotel as a special memento of your stay with us. This 7' X 7' publication is available for $12 plus tax.
The book contains a chapter on the history of the Upper Lake area from Pomo Indian times plus the story of the Tallman family and the original hotel built in the 1870s. It documents with beautiful photographs the renovation and modernization of the hotel and lists the many local attractions and special events at the hotel. The book also contains some of our favorite recipes, emphasizing local ingredients and suggesting pairings with some of our excellent Lake County wines.


All guestrooms feature:
Molton Brown bath products

Custom fabrics

TV, DVD, refrigerator and sundries

High speed internet access

Private patio or balcony
A "Green" Hotel
The Hotel may be historic, but it does everything possible to be energy efficient and meet other environmental standards. Solar panels, quiet and efficient geo-exchange heating and cooling systems, market garden, green cleaning products, composting, recycling and and more!
In 1915, Lake County installed its first commercial gas pump (left) at 4th and Main in Lakeport. Nearly 100 years later, in 2011, the Tallman became the first site in Lake County to install an electric car charging station. Located in our parking lot, the Level 2 240V station can charge any 2010 or later all electric or plug-in hybrid vehicle and prior year vehicles with an adapter. A Chevy Volt is seen charging in the third photo from the left above.

Exactly 100 years later, in May 2015, the Tallman installed in the same location the first Tesla charging station in Lake County and (so far) the only such station along Route 20 between Fort Bragg and Grass Valley. In the photo at right above, two Teslas are seen charging from the sleek new chargers (two attached to a single pedestal).
When you stay at the Tallman or dine at the Blue Wing, the charge is FREE. (When you come for lunch in the restaurant and plug in your vehicle, we say we charge you twice!!!)