Upcoming Events

Valentine's Weekend at the Blue Wing

Saturday, Feb. 13 ~ Regular menu + specials and Valentine's Concert with Conversation in Tallman Meeting House featuring the wonderful roots music duo of ALISA FINEMAN and KIMBALL HURD. Tickets at $25 available at Tallman Hotel (707) 275-2244 ext. 0.

Sunday, Feb. 14 ~ Special Brunch with music by vocalist SHELLY MASCARI backed by pianist PATRICK FITZGERALD, plus

Sunday, Feb. 14 - Romantic candlelight dinner with special menu prepared by Executive Chef MARK LINBACK
WELCOME TO THE BLUE WING SALOON RESTAURANT
The Blue Wing Saloon Restaurant is located adjacent to the historic Tallman Hotel in the country town of Upper Lake.
The Restaurant is a recreation of the town's original saloon built in the 1880's and demolished during Prohibition. The inviting interior is complete with an ornate Eastlake Style back-bar, a black walnut long bar milled on site, and old-growth redwood wainscoting salvaged from the hotel next door. The exterior includes a comfortable heated veranda and garden seating.
In the tradition of the original saloon, we proudly offer our customers fine food as well as local wines, micro-brews and a full bar, all at affordable prices. We're open for lunch and dinner daily and feature music at brunch and supper on Sundays, top quality blues bands at the dinner hour on Mondays, and background music for our weekly Twenty Dollar Tuesdays.
SUNDAY BRUNCH
10:30 to 3:00 Sundays, Music 11:30 to 2:00
Enjoy a great brunch with both breakfast and lunch items either inside, outside on our heated veranda or, in good weather, out in the garden under the sycamores. background music is provided by some of our best local and regional musicians.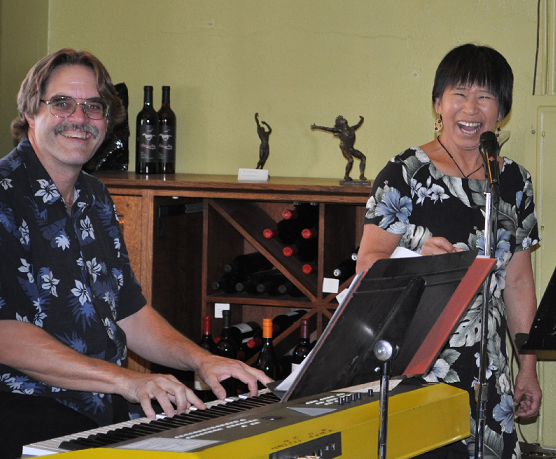 SUNDAY EVENING JAZZ
With "Majide" - Paul Kemp and Machiko
6:00 pm - 8:00 pm every Sunday evening
With special guests on the first Sunday of the month. From 8:00 to 9:00 on the following Monday, the show is re-broadcast on "The Tee" 99.5 FM and streamed at www.KNTI.com.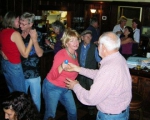 MONDAY BLUES
6:30 to 9:00 every Monday Evening

Local, regional and touring blues bands perform in the restaurant each week. Dinner reservations suggested. A good time guaranteed!

TWENTY $$$ TUESDAYS
5:00 to 9:00 Tuesdays

Music 6:00 to 8:00
Come to the Blue Wing on Tuesdays for our regular menu plus a three-course special priced at only $20 plus tax. On Tuesdays, selected wines are offered at $5 the glass and $20 the bottle and live music is featured every Tuesday. It's a great night out!
HOURS OF OPERATION
MONDAY thru SATURDAY
11:30 am - 3:00 pm Lunch (MENU)
4:00 pm - 9:00 pm Dinner (MENU)
"TWENTY DOLLAR TUESDAY" 5:00 pm - 9:00 pm
Regular menu plus special 3 course dinner for $20
SUNDAY
10:30 am - 3:00 pm Brunch/Lunch (MENU)
4:00 pm - 9:00 pm Regular Dinner Menu
BLUE WING SALOON RESTAURANT
9520 Main Street
Upper Lake, CA 95485
Reservations & Info.: 707-275-2233