Food & SpiritS, Menus & Recipes
---
FOOD
In addition to the menus linked below, we always have a wonderful array of daily specials

Lunch Menu (11:30 am - 3:00 pm Mon. - Sat.)

Dinner Menu (4:00 pm - 9 pm Mon. - Sun.)
Tuesdays: Regular menu plus $20 3-course special

Sunday Brunch Menu (10:30 am - 3:00 pm Sundays)

Blue Wing
Bloody Mary
People love our Blue Wing Bloody Marys ~ so here's Bartender and Front of House Manager Nick's "secret" recipe.


Start with a 32 oz. container of Tomato Juice and add the following:
1 teaspoon Balsamic Vinegar,
2 teaspoons Worcestershire Sauce,
1/4 teaspoon Celery Salt,
2 teaspoons prepared Horseradish,
1/3 jigger Red Tabasco Sauce,
1/4 teaspoon freshly gound Black Pepper,
1/3 Lemon juiced, and
1.5 teaspoons A1 Steak Sauce.
Garnish with celery, olives and black pepper to taste.

This makes 4 large Bloody Marys and the mix will last up to a week in the fridge. Enjoy!
Twenty Dollar Tuesdays: (4:00 pm - 9:00 pm Tuesdays)
On Tuesdays, in addition to our regular menu we serve a single special three course dinner priced at $20 plus tax.
Special wines are priced at $20 for the bottle and $5 by the glass. Call 707-275-2233 for upcoming $20 menu.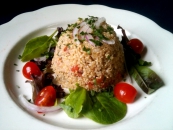 Blue Wing
Quinoa Tabouleh
Served here as a salad or a side with our Broccolini Salad and Mediterranean Plate.
Ingredients
8 oz Quinoa
32 oz boiling water
1 small tomato, diced
¼ cup red onion, minced
¼ cup Italian parsley, minced
2 TB fresh mint, minced
3 TB lemon juice
1 TB red wine vinegar
1/8 – ¼ cup extra virgin olive oil
Salt & Pepper

To Prepare:

Add boiling water to quinoa and cook until tender, about 10 minutes. Drain.
Mix in other ingredients, season to taste, chill.
Stir before serving.
Makes 8-10 servings as a side dish

Recipe by Mark Linback, Executive Chef, Tallman Hotel & Blue Wing Restaurant
---
Wine
The Blue Wing Saloon is located in the heart of one of California's major emerging wine regions. Our wine list features EXCLUSIVELY some of the best wines produced in Lake County – all within a 30 mile radius of the restaurant.
<Our Wine List and Drinks Menu >
Beer
The Blue Wing Saloon offers a selection of Northern California micro-brews on tap plus many popular brands by the bottle. Details on the wine list linked above.
Cocktails

We are proud to offer a variety of cocktails and are continuing to build our cocktail list. A selection is listed on the wine list linked above.