SPECIAL Events
Concerts with Conversation
Our 2015-16 series of informal CONCERTS WITH CONVERSATION in the Meeting House next to the Hotel includes some truly wonderful musicians. Each concert begins at 7:30 PM. Attendance is limited to 40 people. Coffee and cookies are served. Tickets at $25 + tax may be obtained by calling the reception desk at 707-275-2244 ext. 0.

Here's the lineup for this season (check the artist websites or YouTube postings to learn more about each program): NOTE: Our next concert on January 16 features a great jazz trio composed not only of Paul McCandless (oboe and sax) and Christian Foley-Beining (guitar) but also the great Tom Shader on bass.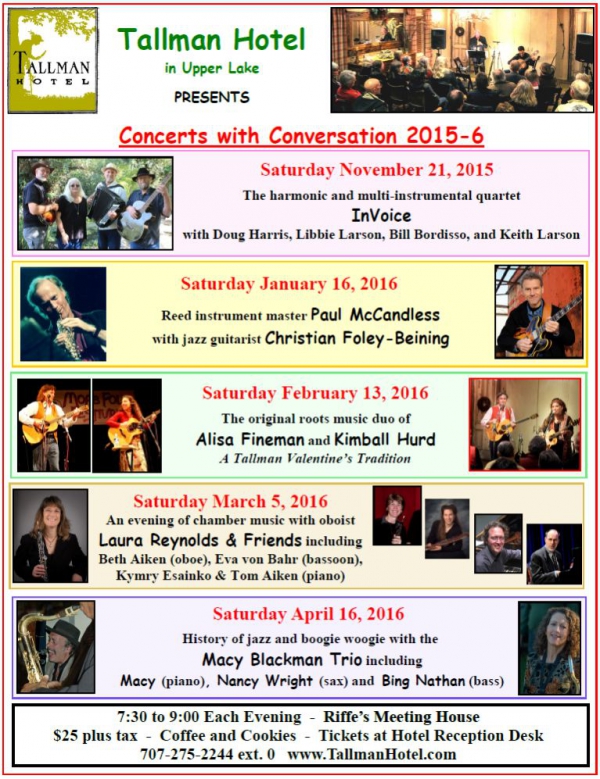 Road Scholar Programs
The Tallman has a close relationship with the Road Scholar Program, which puts on outstanding multi-day adult education and travel programs throughout the world. Participants in each one enjoy our first rate accommodations and meals and get an intimate introduction to the wonders of Lake County. The Tallman owners and staff are directly involved in arranging speakers and field trips that would be impossible on an individual visit.

In May 2013 we hosted a Backcountry Birding Adventure led by birding expert and photographer Brad Barnwell. Check out a 7 Minute Video of the May program and learn more at the program page on the Road Scholar web site.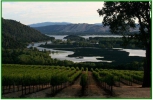 In the spring and fall of each year, we host Lake County wine education weeks aptly named "North of Napa: Wine Country the Way it Used to Be." Click here to get a feel for the week from a nice photo album compiled by Pam and Gary Panattoni at the October 2012 program or see a 7 Minute Video done by Bernie Butcher about the May 2013 program or a 3 Minute Video done by Lisa Teso for Road Scholar, Inc. of the May 2014 program. And learn more by viewing the program page on the Road Scholar web site. Sign up also at the Road Scholar web site by typing in Program Number 19191. The next wine programs at the Tallmanare scheduled for May 23-27 and October 3-7, 2016..
Here's a representative sample of the program reviews we received for our most recent wine program October 4-9, 2015:
Program was exactly what we were anticipating. Great wine of course but more than "tastings." Very informative. Have stayed in other historic hotels and many places in Europe. The Tallman was the best ever - ambiance, food, and staff.
Winemaker Dinners
Meet some of Lake County's finest owners and winemakers at our occasional series of Winemaker Dinners. The events begin with appetizers and tastings at the Lake County Wine Studio across the street and then proceed to the beautiful dining room of the Tallman Hotel. The owners and/or winemakers are on hand to discuss their wines at a three course paired dinner prepared by Blue Wing Executive Chef Mark Linback.
Two events were scheduled for Spring 2015. On Saturday March 7 we hosted Myron and Marilyn Holdenried of WILDHURST VINEYARDS in Kelseyville. And on April 4 Bryan Kane and his partner Jill Brothers were here to discuss the award winning SOL ROUGE wines that Bryan makes on Treasure Island in SF Bay from grapes grown on their estate outside Kelseyville.
Click here to learn more and see the menus >
Stay tuned for our Fall schedule of Winemaker Dinners.

Weekly Music
Sundays: live music at brunch and jazz standards hosted by Paul Kemp and Machiko Shimada at suppertime.
Mondays: Blue Wing Monday Blues from 6:30 to 9:00 every Monday. Dinner reservations suggested.
Tuesdays: live background music in the evening to accompany our $20 Tuesdays - regular menu plus a 3 course special priced at just $20 plus special wine pricing.

Blue Wing Blues Festival
Our ninth annual lively outdoor BLUE WING BLUES FESTIVAL was held August 7, 8 and 9 with a finale on Labor Day, Monday Sept. 7. Two great bands perform each evening plus a gourmet BBQ dinner (see menus), all for $50 + tax. Learn More >
Below is the line-up of great musicians who performed this year in the garden between the Hotel and Restaurant.
Local Activities
Whether you love the outdoors, want to enjoy a nice ride around the lake, stop at wineries & antique shops and art galleries or take a chance at one of our local casinos, there is something for you. Learn More >
Upcoming Schedule
Lake County is home to many musicians. At the Tallman Hotel & Blue Wing Saloon Restaurant we offer many concerts, events and weekly live music to listen and dance to. Below is a listing of events by day.
---